The new update of CALLSTR is now live and offers new, exciting features. Here you can find out more about them and what benefits they bring.
By analyzing the feedback from our test customers and additional research, we have found out which other features are most important for our users. This includes scheduling, availability, a waiting room, and the ability to customize the CALLSTR widget.
In the following we explain the new features in more detail: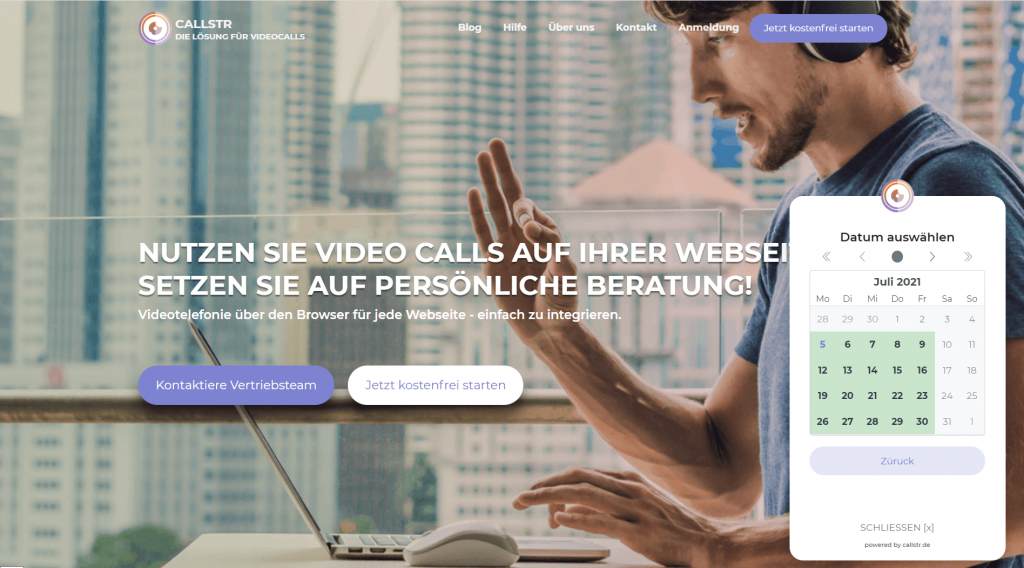 Appointments: By offering appointments, you ensure that the customers can reach you and that enough time is planned for a detailed personal consultation. Thus, personal contact is always guaranteed, taking into account your schedule and that of your customers. All consultants can individually set their available appointments on the CALLSTR Dashboard. The website visitors can then reserve a suitable date from the available time slots. After booking an appointment, both the advisor and the client will receive an e-mail with the date and link to the meeting.
Availability: Thanks to the availability function, the CALLSTR widget now appears in two versions on the website, depending on whether consultants are available or not. With a slider on the CALLSTR Dashboard, every consultant can adjust their availability. As long as an advisor is available, the CALLSTR widget appears as the live version with the options Live Call and Callback Form. If no advisor is available, the CALLSTR widget appears as the offline version with the options Callback Form and Appointment. This feature allows you to work flexibly and you can guarantee a definitive customer contact when you are available.
Waiting room: To offer an outstanding customer experience even on busy days, CALLSTR now also offers a waiting room function. The waiting room works like a call on hold. If an advisor cannot be reached directly via a Live Call, the caller is directed to the waiting room until an available advisor can take the call.
Customization: The widget can now be integrated even better into the website thanks to individual customization. On the CALLSTR Dashboard, you can customize the widget text, the language, the position of the widget on the website, and the loading time of the widget, i. e. when the widget is displayed on the website. This provides you with a perfectly coordinated tool for an outstanding customer experience.
These new features allow you to use CALLSTR according to your needs and provide your customers with an optimal customer experience.